Update: Butte Fire Overnight Focus On Further Re-population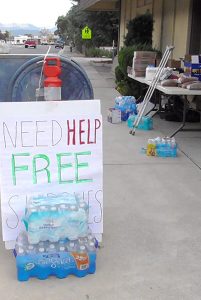 Butte Fire, A Free Supplies Table in San Andreas

View Photos
Update at 10 pm: Cal Fire looks towards re-populating more areas in Calaveras County on Wednesday as crews work through the night, according to Cal Fire Battalion Chief Jamie Moore, of Los Angeles City Fire, who is working the blaze. He says, "Hand crews will be continuing to establish hand lines and try to tie the two ends of the fire together. We are looking for them to make pretty good progress…so tomorrow you're probably going to start see some re-population of the southern and the far east portion of the fire."
Moore adds that the fire has been moving in a northeasterly and southeasterly direction with some wind gust of 30 mph fueling the flames.
Update 8:50 pm: Some Calaveras County residents are being allowed back into their homes tonight as of  8 pm. The latest information from CAL Fire is listed below:
(San Andreas) The areas from Hwy 49 at Mountain Ranch Road, east along Mountain Ranch Road to the burned area (both sides); The area east of Calaveritas Road to Fricot City Road and all side streets to the burned areas;. The areas south of Fricot City Road to Armstrong Road (Sheep Ranch); along Armstrong Road to Scott Road. (Fricot City Road is closed 1 mile east of the intersection of Calaveritas and Fricot City Road. Fricot City Road is also closed in Sheep Ranch).
Cal Fire's Safety Message to Returning Evacuees:
The public is reminded to stay vigilant on current fire conditions. Please continue to adhere to road closures and any evacuation warnings or advisories. If you see electrical wires on the ground, stay clear and contact PG&E immediately. Trees and poles with deep charring, particularly if still smoking, should be considered hazardous. Please drive slowly as emergency personnel are in the area. Subject to Change Based on Operational Conditions.
As you re-enter your property and evaluate damage, be aware that hazardous conditions may exist, particularly if a residence or out-building has burned. Hazards may include asbestos, heavy metals, by products or plastic combustion and various other chemicals.
Update at 7:45pm:
As firefighters get a better handle on the Butte flames, sadly the numbers of homes lost to the flames, according to the damage assessment team on the burn scar, jumps to 233 and 175 out buildings with 15 structures damaged. Ground was gained on the fire's containment as it reached 40% and the size grew 120 acres, to 71,780.
There has also been a hike in the number of firefighters on the scene. Total resources include 4,961 personnel, 519 engines, 60 water tenders, and 92 hand crews. Only the number of dozers dipped from 118 to 115. In the air were 18 helicopters and 8 air tankers. Cal Fire Incident Command reports the fire's behavior remained minimal throughout the day, Tuesday, helping crews continue to progress with perimeter control.
Update at 7 pm: There are still around 4,300 PG&E customers without power in Calaveras County. Many of those have been in the dark for almost a week with their power being cut on September 9th due to the flames. The company has updated its estimated repairs times ranging from Thursday night to Sunday night.
Update at 6:30pm: Firefighters gained ground on the Butte Fire as the containment reaches 40% and the footprint has only grown by120 acres, to 71,780.
Update at 3pm:  The lifting of  mandatory and advisory evacuations along with road closures in Amador County signals progress on the Butte Fire. Cal Fire Battalion Chief Jamie Moore, of Los Angeles City Fire, who is working the blaze, had a few words for evacuees heading home regarding fire retardant residue. "Many people are going to come back into their neighborhoods and find the area pink from retardant."
Moore adds that, contrary to popular belief, retardant doesn't put out the flames. "We've painted the area pink in order to slow that fire down, to be able to get those hand lines established and our dozers in the area, to be able to cut lines," he explains.
This afternoon, Cal Fire  Incident Management Team I put out this safety notice to evacuees returning home:
"Public safety is our main concern. As mandatory evacuations are being lifted throughout the affected fire areas, we want to remind the public that a safety advisory in still in effect. As residents return into their homes, please be advised that an active fire still exists in the area and remain alert to any changes in fire conditions. Please use caution as emergency vehicles and personnel are still in the area."
Chief Moore adds that last night crews were able to fortify areas, especially in West Point and Wilseyville, in anticipation of today's fire behavior. Providing more details, he says, "Our plan has been placed into effect and it's a culmination…we're getting those areas protected where the fire was running initially…where it started pushing…we're getting a control line around it." Moore comments that 37% containment is definitely a step in the right direction, but "we can't let our guard down."
Update at 1:05pm: CAL Fire reports that all evacuation orders, advisories, and road closures in Amador County have been lifted.
Update at 12:50pm: CAL Fire has provided the latest information when it comes to both mandatory and advisory evacuation notices. It reads as follows:
Mandatory Evacuation Orders:
(Calaveras County) West Murray Creek/Murraydale Lane (Entire Street). All areas east from Mountain Ranch Road at Calaveritas Road south to Fricot City Road, Calaveritas Road (The east side of Calaveritas), Costa Road south to Fourth Crossing to Hwy 49. (The southeast side). East side of Hwy 49 at Fourth Crossing, South to Cosgrove. (Cosgrove is not evacuated but is under and Advisory). All areas north from Dogtown Road at French Gulch creek east to San Domingo Road to Sheep Ranch Road. The areas north along Sheep Ranch Road at Avery Sheep Ranch to the intersection of Morris Rd/Valley View Road.
Hwy 26 in Mokelumne Hill at Italian Vista to West Point all areas to include Glencoe, Westpoint and Wilseyville. Bald Mountain Road, Winton Road Blue Mountain Road, Mitchell Mill Road, Skunk Hollow Road
The entire areas of Railroad Flat, Mountain Ranch and Sheep Ranch, to include all outlying areas east of these towns. Summit Level Road, Swiss Ranch Road, Armstrong Road and Scott Road.
Evacuation Advisory:
(Calaveras County) The corridor along Hwy 49 from the Amador County Line south to the city limits of Angels Camp and all areas east of Hwy 49 that were previously released are now under an advisory. The areas southeast of Calaveritas Road to Costa Road. The areas along Fricot City Road along the southside to Sheep Ranch Road. The areas South of Avery Sheep Ranch Road to Morris Road in Avery. The town of Murphys, Forrest Meadows, Avery and along the Hwy 4 corridor from Avery to Arnold, including the town of Arnold.
Also of note, CAL Fire Tuolumne-Calaveras Unit Chief Josh White provided an update today on the Butte Fire. Click here to read the earlier story.
Update at 7am: As of this morning, 4,668 firefighters are assigned to the Butte Fire. Fire behavior remained minimal overnight, helping firefighters make progress on strengthening perimeter lines.
We reported earlier today that more evacuees are being allowed back to their homes. CAL Fire reports that the following areas listed below are still under a mandatory evacuation order:
Update at 6:45am: CAL Fire reports this morning that the Butte Fire is up to 71,660 acres and it is 37% contained.
Original story posted at 6:05am: Additional Butte Fire evacuees are being allowed back to their homes.
The latest information from CAL Fire is listed below:
The following evacuation areas have been lifted and are open to RESIDENTS ONLY, however, this area will remain under an evacuation advisory.
(Calaveras County) Town of San Andreas
* Gold Strike Rd through Pope St. to Mountain Ranch Road
* Mountain Ranch Rd west to Hwy 49
* Hwy 49 north to SR 26 (Mokelumne Hill) continuing northbound Hwy 49 to the Calaveras/Amador County line (only in unburned areas)
The Butte Fire is 71,523 acres and 35% contained. Click here to read the rundown of the fire from Monday. You can click on the image below to view a perimeter map or a 4.67MB .pdf file of the same map Butte Fire Map is here.

For Continuing Butte Fire information read September 16th's Butte fire news story here.