Chief White Provides Update On Butte Fire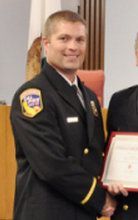 Cal Fire Tuoumne-Calaveras Unit Chief Josh White
CAL Fire Tuolumne-Calaveras Unit Chief Josh White has provided several new pieces of information about the Butte Fire. For Tuolumne Community Cable Access (Cable 8)'s video "Josh White's Butte Fire presentation to Tuolumne Supervisors" click here or view in the upper left box.
Chief White gave the Tuolumne County Board of Supervisors a briefing about the fire, in the neighboring county, at the start of today's meeting.
Chief White called the fire "historic" and noted that it has burned through some areas that have not seen fire in over 100 years.
He said the fuel moisture, and energy release components, are "at or above the Rim Fire." Spot fires are still a major concern, because as soon as a spot hits vegetation, it can take off running.
There are still notable concerns along the eastern flank of the Butte Fire, due to access challenges, topography and the heavy fuels.
Chief White said the Butte Fire burned through Mountain Ranch yesterday, and around 50 engines were on scene working to help protect structures.
He spoke about how the weather is currently helping the fire fight, but cautioned, "We can't be fooled with this recent precipitation, and we cannot become complacent. This is just a short opportunity."
He also added, "If you believe in the power of prayer, now is the time. They need all the help that we can muster."
On the Amador County side, they are trying to "button things up," according to Chief White. However, areas like Pioneer and Pine Grove are still a concern.
Another notable piece of information relayed by Chief White is that when the fire was seeing its explosive growth on Friday, and heading toward Highway 4, there were realistic concerns that the fire could expand into Tuolumne County. He was in close contact with the Tuolumne County Administrator Craig Pedro and Sheriff Jim Mele about making sure needed plans were in place, in the event.
Chief White also praised the work of Sierra Pacific Industries in building containment lines near Highway 4. In addition, he had very positive things to say about the Stanislaus National Forest and CAL OES.
An overlapping message of the meeting was that while things are improving, residents near the Butte Fire need to remain on alert.
Talking about lessons learned so far from the Butte Fire, Chief White said that more work needs to be done in this region when it comes to fuel breaks and fuel modifications.
He also said, "We've got to get the word out that when the Sheriff's Office calls for an evacuation, people need to evacuate. It is such a hindrance to law enforcement  and fire suppression resources when somebody wants to debate the issue when the fire front is running at their house."
Nearly the first hour of today's Tuolumne County Supervisors meeting focused on the Butte Fire, and other fire activity in the region.
Click here to read the latest story detailing the latest containment and size estimates, as well as details about evacuation orders.