Update: Tioga Pass Re-Opens Near Walker Fire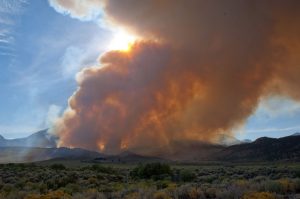 Walker Fire Near Lee Vining

View Photos
Update at 1:45pm: You can now travel freely along Highway 120 near the Walker Fire. Inyo National Forest Spokesperson Deb Schweizer says, "Tioga Pass reopened this afternoon, so people can pass through without an escort. What we are asking is that in the lower Lee Vining canyon, the eastern six miles of Tioga Pass, that there be no stopping. There is still fire south of the road there, and it is a firefighter and public safety issue."
The Walker Fire remains 3,700 acres and 10% contained.
Original Story at 1:10pm: The Walker Fire, which is impacting Highway 120, is now 3,700 acres and 10% contained.
The Inyo National Forest reports that it was "human caused," but the investigation remains ongoing. 235 structures are threatened by the fire, which was ignited on August 14. The fire is approximately two miles southwest of the community of Lee Vining. It has also ignited a 75 acre spot fire in Horseshoe Meadow area of the forest. The fire originated north of Walker Lake. Highway 120 (Tioga Pass) remains closed near Lee Vining, from the intersection of Highway 395 to the Yosemite National Park entrance.
400 firefighters are assigned to the incident, as well as numerous aircraft, dozers and engines. The fire is causing some drift smoke in the region.
A special thanks to community news partner Joe Hall for sending in the photos. Pictures can be e-mailed to news@clarkebroadcasting.com.