Parent Co-op Nursery Has New Director, Plans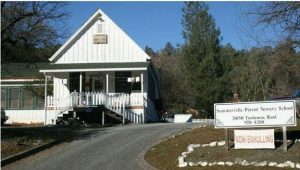 Summerville Parent Nursery School

View Photos
Sonora, CA — Moving forward with positive news for this school year, the Summerville Parent Nursery School (SPNS) is busily realigning for the years ahead.
Welcoming SPNS preschoolers at 8:45 a.m. on the first day back, Wednesday, Aug. 19, will be Diane Doster, the newly hired director/teacher.
A warmly recognizable face, Doster, who was recently selected for the position by the school's parent board, is both a longtime local teacher as well as the former director of the Sonora Parent Nursery School that closed its doors about five years back. Over the summer, Molly Rose, SPNS's popular former director/teacher, accepted a full-time position teaching sixth grade at Twain Harte Elementary but still lent her full support during the leadership transition, according to board co-president Keturah Wilk.
Wilk adds that the parents feel fortunate, indeed, to have both Rose's support and Doster onboard as the school faces what will be a critical transition year, as it shapes a future without any more financial support from the Summerville Union High School district after the 2015-2016 school year.
District Funding Phase-out
"Six years ago the district was funding the nursery school at about $30,000 a year," as Wilk explains the school's situation. After budget cuts, due to the recession, the amount sank to $10,000. At that time, plans were to phase out monies to zero in two years, according to Wilk, but at the end of this past school year, the district school board voted to provide just one more year of financial support, to the tune of $7,200.
Wilk, the sole carry-over parent board member from the last school year, is chairing it this key year in tandem with co-president Julie Smith. Also on the new board are Holly Marquart and Julie Yorston, who were named co-vice presidents; Becca Busscher and Courtney Muzio are respectively serving as secretary and treasurer.
With all the changes, "It's been an interesting couple of months," Wilk admits ruefully. After doing her own research about co-op parent in-state preschools and how they are funded, she calls SPNS's partnership with the school district, initially arranged some years back as part of an adult education program, as a rare one.
However, as the relationship has proved both a supportive and helpful for the parent co-op nursery, Wilk says that the member parents would prefer to keep up some connection to the high school; that is, if funding can be found that could be run through its auspices.
Hands On Parents = Low Dues
"One of the things that keeps the program so unique is that our dues are low, and that's because we only have one employee," Wilk states. "Our members, which are the parents…volunteer a lot of hours in the classroom and with the students."
Costs to run the preschool are about $60,000, according to Wilk, which cover payroll, rent, utilities, and supplies that need to be purchased. Parents additionally donate supplies and some come from community donations. As Wilk points out, "It's not really expensive to keep it going, but when you don't have funding, then things get tight quickly." About $10,000 comes from two annual fundraisers and the balance of its income comes from dues, which are now $11/day per student.
Superintendent Robert Griffith, in providing the school district's perspective, explains, "What has happened over time, is that the whole arrangement has outlasted the practicality of it…in other words, our district used to receive a significant amount of money for adult education. Now we don't."
As slowly, over time, the amount that district has been contributing to SPNS has declined, the need for it to evolve is hardly coming as a surprise to the parents. Griffith notes the district, in lending a hand with the SPNS transition, has met with administrators and a representative from the county's Office of Education.
Potential Ways Forward
"Another possibility is for [the parent board] to work in conjunction with Columbia College, to see if they might underwrite a course, with the parents signing up and getting credit — and maybe they would be able to secure some kind of support through doing that," Griffith offers. He points out, "That's essentially what we did, until it was no longer funded [at the high school]." Too, he adds, "There's an avenue of creating some kind of a private daycare, which the state allows. So they have some options, and what this year does is allow them that time to be able to look for different options."
To make up the difference and keep school dues down, moving forward, the parents plan to augment school fundraising events with additional activities. In the interest of spearheading a way forward, Wilk is also organizing a "solutions" oriented committee to help research funding options, alternate organizational structures, and potential alternate locations for the school, ahead of the 2016-17 school year.
The school has calendared its first mandatory parent meeting for next Tuesday, Aug 18 at 6 p.m. and is also still accepting new students. Interested parents may contact the school by calling 928-4288 or through its Facebook page here.