Suspect Identified After Theft Stopped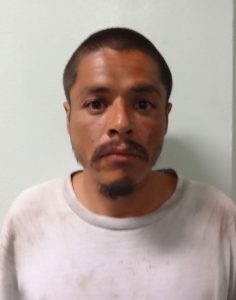 Sonora Police Booking Photo Santos Sanchez

View Photos
Sonora, CA — The Sonora Police released details today about a carjacking that was prevented and how the suspect was later found. At 7:55pm on Thursday, August 6, a man stopped his vehicle but left it running at a business on the 300 block of Stockton Road. He went inside to purchase a drink and he observed a Hispanic male enter his vehicle, sit in the driver's seat and start to drive off.
The vehicle owner and another person both stood in front of the vehicle preventing the suspect from driving away. The suspect left vehicle and fled the area.
A half an hour later, the victim reported seeing the suspect walking on Washington Street in the area of School Street. Officers responded and contacted Santos Sanchez, 31 of Waterford. Sanchez was taken into custody without incident and booked into Tuolumne County Jail for felony vehicle theft. Sanchez is on probation out of Stanislaus County for unlawfully causing a fire and vandalism.