Man And Woman Killed In HWY 108 Crash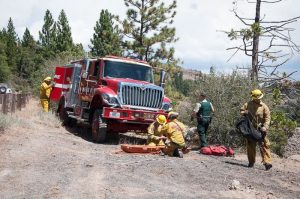 Emegency crews at the HWY108 fatal accident

View Photos
Tuolumne County, CA — A man and woman are the victims of a fatal crash on Highway 108 near Little Sweden in Tuolumne County.
The CHP is not releasing their names pending notification of family.  The driver was a 69-year-old man from Modesto, and the passenger was a 70-year-old woman from Salida.  The CHP reports for unknown reasons the man, driving a 2007 Chevy sedan, allowed the car to drift off the roadway.  He over corrected, crossed into the oncoming eastbound lane and plunged down a 200 foot embankment.  CHP Officer Jamie Pullen says, "The collision was witnessed by fire personnel that were nearby.  They responded immediately on scene and began lifesaving measures.  Due to the injuries, both the driver and passenger succumbed to their injuries."
As previously reported, Cal Fire rescue crews were also on scene using a helicopter to pull the victims from the wreckage.  Cal Fire spokesperson Lisa Williams explains, "It started out with a low angle rescue, and then they [emergency responders] did a hoist with two patients."
The accident, which happened at 12:05 p.m., is under investigation.