Final County Budget Hearing Next Meeting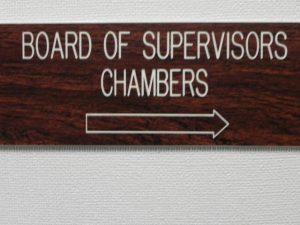 Tuolumne County Board of Supervisors Sign

View Photos
Sonora, CA — The Tuolumne County Supervisors will approve a final budget later this month, and earlier today many gave pitches to receive additional funding.
The county will soon decide how to spend much of the "one-time" funding that does not come from recurring revenue sources. One item that came up was in relation to funding of road projects. County Administrator Craig Pedro noted that the state is planning a special session on transportation, so additional funding could be coming to the county, but it is still up in the air. The county is hoping to complete notable reconstruction projects in areas like Parrotts Ferry Road and Dodge Ridge Road. The County is also looking to set aside additional money for the future jail project (up to $4.6-million), and additional drought related staff to help the OES Coordinator ($20,842) and the Environmental Health Director ($16,079).
In addition, the Arts Alliance is requesting $60,000 to maintain and increase its efforts. Last year the organization received $45,000. The Mother Lode Fair is asking for $14,000 to help its efforts, and the county's museum would like $22,000.
The county will have several items to decide in the next couple of weeks. Today's discussions were a precursor to the August 18th hearing. No formal decisions were made at the meeting.