Looking For Something To Do?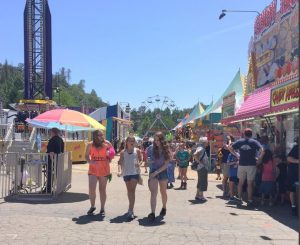 Mother Lode Fair

View Photos
Sonora, CA – For some Sunday fun, why not head to the Mother Lode Fairgrounds in Sonora. Plenty of Mother Lode Fair goers enjoyed rides, a livestock auction, exhibits, music, and food on Saturday. There is still popcorn, cotton candy, arcade games and much more to entice, especially with Mother Nature cooperating with mild temperatures.
Fair CEO Stacey Dodge is thrilled saying, "We just couldn't ask for better weather. Here it is in the eighties. We've been in the high nineties, into the hundreds, and here we are in the eighties for this three-day weekend. We're just all astounded with it. We love it." Fair goers will too as today the good weather and times continue to roll from noon until 11 p.m.
The Small Livestock Auction to support Tuolumne County 4-H and FFA members begins at 2:30 p.m. Youth exhibitors are selling turkeys, rabbits, chickens and goats. The fair culminates with the hard-hitting action of the ever-popular Demolition Derby. It is fun for the whole family. Here kids can actually get a little dirty without getting into trouble.
Find a rundown of all of today's events by clicking here.