Lightning Knocks Out Power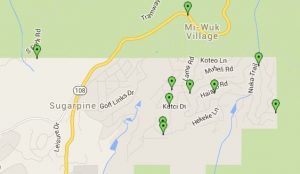 Power Outage Mi-Wuk Village

View Photos
Mi-Wuk Village, CA — Lightning strikes have left some PG&E customers without power in the Mother Lode since this morning.
More than 30 customers in the Mi-Wuk Village area have been without electricity since around 10 a.m. PG&E reports lightning in the area is to blame for the outage. Crews are on the scene working to fix the problem. Those without power are in the area of Leka and Lama Tamalin roads, where lights have been out for six hours. The power company hopes to have the electricity back on by about 5 p.m. However, PG&E reports a connector repair problem could stall getting the lights back on until after 10 p.m. for some of those customers.
With isolated thunderstorms still in the area forecast through this evening, the possibility of lightning strikes remain, subsequently increasing chances for additional outages.
PG&E advises, in the case of an outage at your residence, before calling to report it, check to see if other neighbors are affected, which would confirm an neighborhood area outage. If only your residence is without power, first check the circuit breakers and/or fuse boxes. If it is not an in-home system issue, single or neighborhood outages can be reported by calling PG&E's 24-Hour Emergency and Customer Service Line at 1-800-743-5002.