Update: New Details On Prison Riot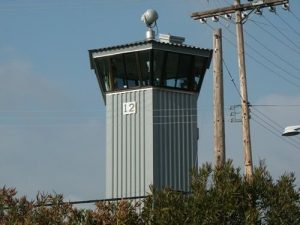 Sierra Conservation Center

View Photos
Jamestown, CA – Prison officials have upped the number of inmates involved in Tuesday's Sierra Conservation Center uprising from 150 to nearly 200 where homemade weapons were used.
When asked for the number of inmates placed in solitary confinement, prison spokesperson Lt. Robert Kelsey replied, "That number is fluctuating, as we find other inmates with injuries. At first it's 50, but that number could change." Two prisoners flown to area hospitals have non-life-threatening injuries, according to Kelsey. He stated that all inmates involved "will be placed in administrative segregation pending the disciplinary process…including those in the hospital."
Prison officials say they still do not have an answer as to what sparked the riot or whether gangs played a role. Concerning the types of homemade weapons used in the outbreak, Kelsey stated, "That goes into our ongoing investigation and it's not really information we want to disclose right now."
As reported yesterday, the riot happened around 8 p.m. Tuesday, on the in the minimum-security A-Facility main exercise yard. Since the outbreak, that section of the prison is on what is called "a modified program." Kelsey clarified, saying, "It is not a lockdown. What it is…we'll control movement in small groups. We modify the way we feed them [inmates], the way that we take them to medical…in the safest way possible, because, until we know exactly what the cause is, we don't know exactly what we're dealing with."
Most of the inmates in the A-Facility have less than five years left to serve, according to Kelsey. He adds they are usually the inmates that work in the camp program with Cal Fire. As to whether the riot will hurt that program and area fire protection efforts this summer, Kelsey was emphatic. "It should have no impact," he stated. "At this time we don't know exactly who was all involved, where they were at as far as their classification process, but our camps are staffed right now and these inmates would be replacements."
In the meantime, prison interviews continue. Kelsey indicated that the next step will involve filing charges, which might include attempted murder, depending on the outcome of the investigation.