Mud Stops New Melones Pump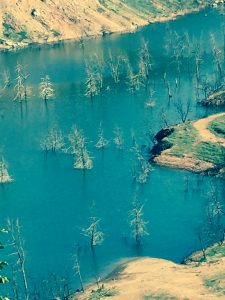 New Melones on 3-28-15

View Photos
New Melones, CA – Tuolumne Utilities District (TUD) says it has notified some of its ditch and supplemental customers that they may not get any water this year.
At Tuesday's TUD meeting, General Manager Tom Scesa told the board that the New Melones pump station is no longer functional because it is submerged in mud. "It a concrete structure well over six feet tall…then a tower cage on top of that, which is 10 to 12 feet…after that a large trash rack, which is another three or four feet tall.  All of that is submerged, it's depressing."
When the board asked if a pipe could be extended into the water, Scesa replied that as it is a flooded head pump, the machinery involved must be under water and not in mud to work.  Additionally, Scesa reported that ditch customers in the Algerine Shaws Flat Loop have already been notified by mail and phone that the District is not sure it can make any water deliveries at all.