Challenges Face Twain Harte Lake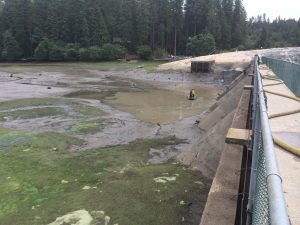 Twain Harte Lake drained

View Photos
Twain Harte, CA — Besides simply lacking the supply, there is a legal question about whether T.U.D. can sell water to fill Twain Harte Lake during the current drought.
We reported that in late March, T.U.D. sent a letter to the Twain Harte Lake Association stating it is unlikely the district can supply the 130 acre ft. requested for the lake. T.U.D. had earlier indicated it could sell the water to the association, assuming Lyons Reservoir filled to capacity. However, PG&E's latest projection is that Lyons will reach only 75% capacity, so T.U.D. would be unable to supply the water for the private lake. The following week, on April 6, the Twain Harte Lake Association sent a letter back to T.U.D. indicating that it understands the situation at hand, and is interested in purchasing supplemental water if it becomes available.
However, there is another legal wrinkle. During the drought of 1977, a homeowners association in Orange County attempted to purchase water for its private lake, from a southern California water district, and the California Water Resources Board ruled that this type of use is "waste and unreasonable," and a violation of the California Constitution. T.U.D. has reached out to the state for clarification on this past ruling, and if it applies to Twain Harte Lake. To this point, the district has not received a clear determination.
Twain Harte Lake has been empty for the past several months while repairs are being made to the dam. The association has been hoping to reopen for a considerable portion of the summer season.
Matters related to Twain Harte Lake will be discussed at Tuesday's T.U.D. meeting. It will start at 2pm in the District Office. You can watch live video in the multimedia section of myMotherLode.com.