Update: Sonora Suspicious House Fire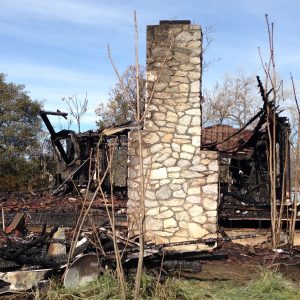 Sonora house fire destroys Hospital Road home

View Photos
Sonora, CA — City fire investigators do not believe it was arson, but that does not mean there will not be criminal charges.
As first reported by myMotherlode.com on March 14, when firefighters arrived at the scene in the 350 block of Hospital Road at around 4:30 a.m., flames were shooting out of the vacant home.  Fire officials reported the home was a total loss and the cause of the fire was under investigation.
Sonora Police Chief Mark Stinson updates the investigation saying, "They [investigators] are still doing some testing to the building material, trying to determine the actual cause and if there was any use of an accelerant.  At this time, though, it is kind of leaning like it will probably not be an arson caused fire."
Investigators still have some people they want to interview, according to Chief Stinson, who says arrests are still a possibility.  "We've had problems with people cooking in that building before.  We've had people with lighting sources in that building and we've actually had people building fires inside that house, so there are several different angles we are looking into at this point."
There were no trespassing signs posted at the home.  That could bring about trespassing charges, advises Chief Stinson, who adds, "Also, if a fire was set and allowed to escape causing damage to another person's property that would involve criminal and civil liabilities.  Investigators expect lab tests results back in the next three to four weeks.  Chief Stinson hopes those results will determine the actual origin, spread and cause of the blaze.