Update: Sonora House Fire Pictures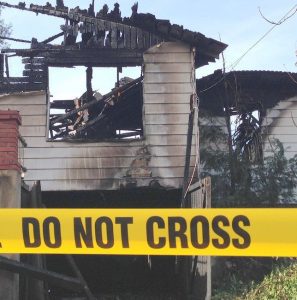 Sonora house fire destroys Hospital Road home
Update 10:00 a.m.:  Daylight pictures to the left show the destruction from the flames of the fire that had investigators on scene sifting through the rubble and taking pictures, looking for signs of arson. City of Sonora Fire Captain Matt Slusher says,  "The abandoned home a total loss, but firefighters were able to stop the flames from spreading to a neighbors home with a propane tank in backyard.
7:02 a.m. Sonora, CA — Firefighters remain on the scene of a home fire as investigators are actively trying to determine whether arson played a roll in the blaze.
Cal Fire reports the blaze started around 4:30 this morning on 350 block of Hospital Road just down from Mono Way and Clark Pest Control.  City of Sonora Fire Captain Matt Slusher says, "We arrived to a well involved structure fire…Mostly our goal was to protect a structure just below this residence and we were able to successfully do that."
The home is now a burned out shell and a total loss according to Captain Slusher, who says,   "This home was actually an abandoned home that was posted by the city as a do not occupy home residence.  We don't know how the fire was started yet, but it is under investigation currently."
The call came into Cal Fire from a passerby who reported flames shooting out of the home.  Capt. Slusher says when crews arrived the home was totally engulfed in flames, but no one was seen in the area of the fire.  Crews will remain on scene for several hours mopping up.
Click here for initial fire story.