Letters Aim To Spur Water Legislation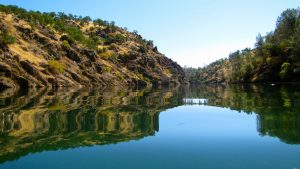 Lake Tulloch

View Photos
Sonora, CA — Congressman Tom McClintock has sent letters to the President and federal administrators about drought water issues, calling for a stop to what he calls "the excessive release" of water from western dams to save fish.
In the letters McClintock calls for a revision to the 2015 plan for the release of water from reservoirs like New Melones and Lake Tulloch, due to the extreme drought conditions.  He criticizes the current plan in use to control the water temperatures so that endangered fish will not die as "insane."
This is not the first time the congressman has written letters calling for changes to the scheduled annual April water releases.  Last year, he wrote Governor Jerry Brown and a similar letter to President Barack Obama urging them to exercise authority and convene the Endangered Species Committee to suspend or modify the mandated water release amounts.  Asked whether he thought these letters would accomplish any change, McClintock said, "Brown never did write back…Obama responded, but basically blew me off.  It [Obama's response] was a polite letter acknowledging the severity of the drought and promising to do nothing."
The lack of response has prompted the congressman to attack the issue from another angle.  Next week, he plans to propose legislation forbidding the government to release water to adjust temperatures for fish during severe drought or worse conditions. McClintock adds he will be sending follow up letters to the President and Brown.
Here are McCllintock's letters. WaterLetter, WaterLetter2