Feinstein Weighs In On E-mail Debate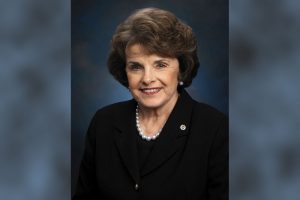 Dianne Feinstein

View Photos
Washington, DC — California Senator Diane Feinstein encouraged Hillary Clinton to come forward with more details on her use of a non-government e-mail account while she was Secretary of State.
Over the weekend, Feinstein became the first major Democrat to urge Clinton to fully explain her actions, noting that the "situation isn't clear", and adding that silence will only hurt her. California's senior Senator made the comments, after being questioned on NBC's "Meet the Press."
Clinton has been criticized for using a private e-mail account, rather than a government issued account. The Associated Press reports that Clinton says that she's turned over all relevant emails, totaling 55,000 pages, to the State Department for review.
Although she has not formally declared her intentions, Clinton is considered the leading front runner for the Democratic nomination for President.