Public Input Sought For Off-Highway Rec Projects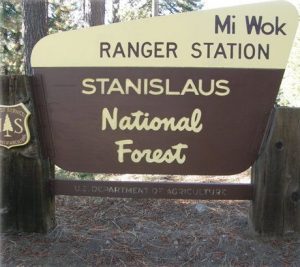 Mi-Wok Ranger Station - Stanislaus National Forest

View Photos
Sonora, CA – Beginning March 4, the public – and certainly, fans of off-highway vehicle (OHV) recreation — are asked to weigh in on several OHV projects that Stanislaus National Forest has slated for 2016.
As Forest Service spokesperson Rebecca Garcia explains, every year, the Stanislaus National Forest applies for state OHV grants and posts its preliminary proposals on the California State Parks OHV page. As she states, "That way, the public can take a look…provide any comments about what is proposed…and what they want to use the funds for. These grants…funded to us annually have been very instrumental in allowing us to provide the quality of work out there." She notes, "Of all the Sierra Nevada Forest, the Stanislaus National Forest is the number one visited…by OHV visitors."
Among the projects to be considered under the $1.6 million funding request, which includes a $510,000 Forest Service match, are: forest-wide operation and maintenance of OHV trails and facilities, among then,  Hull Creek Campground and Niagara OHV Campground, at an estimated cost of over $900,000; a Sierra Nevada Red Fox management study, for roughly $666,000; Mi-Wok Central District restoration, at $206,000; Summit Long Valley restoration, at $73,000; Mi-Wok Lower Dodge Ridge development, at $38,000; and national forest safety and education projects, at $32,000.
A very popular recreational experience within the national park lands, Garcia encourages area residents to take full advantage of the local trails. "Many people you can see have, on the back of their trailers, the equipment…the grown-up toys — sometimes they don't realize that they have so many opportunities and trails right here in their own backyard, in their own national forest!"
Public comments on the proposed projects are welcome through April 6, according to Garcia. Interested parties may review and comment on the preliminary application package, available online through the California State Parks, Off-Highway Motor Vehicular Recreation Grant and Cooperative Agreements website. To access the correct landing pages, click here and then, from the left column menu, click-to-view the related details under the "Public Review Instructions" and "Reviewing Preliminary Applications" headings.