Supervisors Hear Update On Drought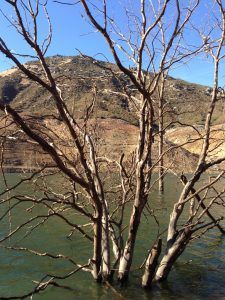 New Melones by Parrots Ferry

View Photos
Sonora, CA — The Tuolumne County Supervisors learned where things stand in relation to water supply in the county, in the midst of the fourth year of drought.
This morning the Supervisors voted unanimously to continue the local State of Emergency drought declaration.  CAO Craig Pedro said that T.U.D. staff members will address the Supervisors in April with a full report, but he noted that both Lyons Reservoir and Pinecrest are expected to "fill and spill" this year. He said it is, "good news." There is still expected to be conservation measures put in place this spring by T.U.D., but not to the degree of last year.
Lake Don Pedro Community Services District is still in a more dire situation, but things are gradually improving. With the recent rainfall, and reductions made to fish related flow releases, water is now expected to last until August 24.  As reported previously, the district is putting in place mandatory conservation measures, including no outside watering, in hopes of having the supply last as long as possible. In addition, the district is investigating the possibility of having deeper water intakes at Lake McClure, and working towards supplementing ground water with well water.
On the issue of the controversial planned drawdown at Lake Tulloch, the county expressed concerns about the impact it could have on its landowners and businesses, as well as nearby Calaveras County, and the Sierra Conservation Center (which receives water from the lake). The county plans to take an active role as more decisions near.
On the matter of water wells, at least 117 have now gone dry in Tuolumne County, as a result of the lasting drought. The county receives approximately 2-3 calls each day from people concerned about their well, and asking about what the signs are of a failing well.
Tuolumne County first declared a local State of Emergency for the drought in February of last year.