Yosemite: Warm Weather Brings Uptick In Activities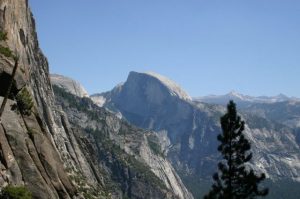 Yosemite - Half_Dome

View Photos
Yosemite, CA – While much of the US is, literally, still knee-deep in winter weather, nearly record-breaking warmer temperatures at national parks in the West are causing a flurry of spring-like activities.
For example, as Yellowstone National Park's grizzly population began to stir from hibernation over two weeks ago, a full month earlier than normal, rangers began communicating warnings to stay well away from the ravenous creatures, carry bear spray and make plenty of noise while out and around the park. At Yosemite, so far, the bears are still relatively quiet, according to Park Ranger Ashley Mayer. She notes, "The black bears that we have here in Yosemite are not true hibernators, so if it is a mild winter some of them may not hibernate at all, but at this time, we have not really seen their activity pick up." However, she quickly adds, "If you were to be in the park and see a bear, as with all wildlife, it is important to just give them their space and allow them to do what they would naturally do."
Due to the season's relatively warmer temperatures, Mayer says, the big snow cone that builds up at Yosemite Falls where the mist freezes is noticeably absent. "We'd sure like to see more snow…there's no snow in Yosemite Valley but it is beautiful weather…nice hiking weather." She notices a definite uptick in rock climbing activities throughout the season, due both to the lack of snow and prevailing warmer weather. She reminds visitors that layered dress is still essential: "If you're starting a hike on Yosemite Valley floor it's a bit warmer…as you head up, it might get chilly and the evenings are still pretty cold — so layers are always good when you are out hiking in the park."
Highway 120 Tioga Pass remains closed with no plans yet to open it earlier than usual, Mayer reports. As she explains, while there has been little snow, still freezing temperatures up at the higher elevations are causing potentially treacherous road ice to remain a concern.