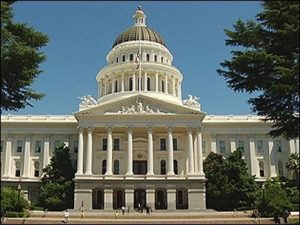 California Statehouse

View Photos
Sacramento, CA — A newly proposed state law would require all California bicyclists to wear a helmet.
SB 192 was introduced by  Democratic Senator Carol Liu. Since 1994, California has required that all minors, under 18 years of age, wear a helmet when riding. Liu's legislation would expand the law to residents over 18. Anyone caught in violation could face a $25 fine. Her bill also requires all riders to wear reflective clothing when riding at night.
"Any responsible rider should wear a helmet," says Liu. "This law will help protect more people."
While 21 states require children and teens to wear helmets when riding, no states currently have laws impacting adult riders. The helmets would have to meet the requirements of either the American Society for Testing and Materials, or the US Consumer Product Safety Commission.