High-speed Rail Infringing On Fox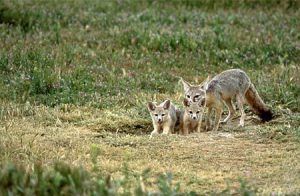 Kit Fox with pups

View Photos
Fresno, Ca – Protecting an endangered species has brought harsh words from federal wildlife officials to California's High-speed Rail Authority.
In a January 26 letter, the U.S. Fish and Wildlife Service accused the Authority and Federal Railroad Administration for non-compliance with environmental commitments for building the Fresno-Madera area bullet-train line.  At the center of the controversy is the San Joaquin Kit Fox, which is about the size of a cat, and was put on the federal endangered species list in 1967.
In the letter, a Fish and Wildlife official chastised the agencies for preliminary work done in June by contractor Tutor Perini/Zachry/Parsons that infringed on the fox's habitat, without notifying officials until months later.  Bullet train officials blame a lack of communication for the oversight and have vowed to provide additional habitat for the Kit Fox elsewhere in the Central Valley.