HUD Money For Rim Fire Recovery?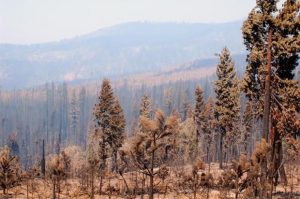 Rim Fire Burned Area

View Photos
Sonora, CA — A chunk of money could be coming to the area to help the region rebound from the 2013 Rim Fire.
Tuolumne County leaders have been notified that post Rim Fire recovery projects could be eligible to receive money as part of a $1-billion National Disaster Resilience Competition. Money is available for communities that are rebuilding from natural disasters, which occurred between 2011 to 2013. The grant program is a joint effort between the U.S. Department of Housing and Urban Development and the non-profit Rockefeller Foundation. The Rim Fire is the lone qualifier for California, and the state is helping to coordinate the stakeholders and projects.
"What they're looking for is ways that would improve the economic viability and resiliency of communities, and improve the infrastructure, so that if there was another disaster, it would have less economic effect on the area," says John Gray, Chairman of the Tuolumne County Board of Supervisors.
Gray says the county is one of various entities involved in this, and others include, but are not limited to, the U.S. Forest Service, Caltrans, PGE and T.U.D. Project proposals would range from road improvements, improving water flow in some areas, forest management projects, watershed improvements, etc.
The most that an individual disaster is eligible for is $500-million.
Gray says, "500 million dollars is a lot of money, but when you look at the cost of reforestation, repairing the roads of the forest that were damaged…that could take a lot of funds.
H.U.D. reports that Phase 1 applications are due in March. Announcements regarding funding will be made in late 2015, likely around October.