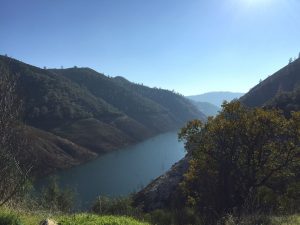 New Melones 1-1-15

View Photos
Sacramento, CA – Californians' tap use is improving, but too much is still going down the drain as the state enters into the fourth year of the drought.
The state Water Resources Control Board report released today shows Californians cut overall water use by 9.8% in November, compared to the same period a year ago.  Additionally, the water savings was an improvement over the 6.8% October figure, which indicated conservation efforts were slipping, compared to previous months.  The November water conservation numbers are the best since the state started the data collection in July.  Also, in that month more than 105 billion gallons of water were saved compared to last year, which is enough to supply 1.37 million Californians for a year.
"In many parts of California, it is clear that residents understand we are in a prolonged drought.  And many continue to conserve water, even as we enjoy welcome rain and runoff that is beginning to recharge our reservoirs and groundwater supplies," said State Water Board Chair Felicia Marcus.  "That is good news because it will take far more rain and snow to get us back to normal.  Conservation is still the smartest and most cost effective way to deal with this difficult drought.  We need to treat water as the precious resource that it is."
Even with the recent rains, 94% of the state remains in severe drought.  Central Coast residents were the top water savers in November, cutting use by 21% while residents in the south and east regions cut their use by just 1.2%.