Mixed Reactions To Brown's Inaugural Address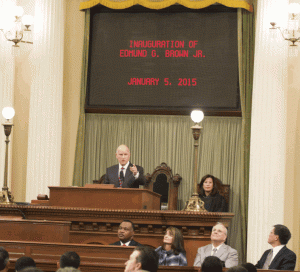 Jerry Brown Delivers State of State Address

View Photos
Sacramento, CA — Several lawmakers are expressing their opinions about Governor Jerry Brown's State of the State address.
The Governor called for additional spending on highways and infrastructure, paying down unfunded liabilities, moving forward with high speed rail, increasing renewable energy sources, improving higher education, and touted the rainy day fund. Click here to find an earlier story detailing the entire speech.
District Five Republican Assemblyman Frank Bigelow said, "I was truly enthused about certain parts, and very, very curious about other parts. Such as, how are we going to deal with 50% less fossil fuels in this state? This is going to be a tremendous impact to all of us."
Assembly Republican Leader Kristin Olsen said, "As usual, the Governor Brown's State of the State address was a mixed bag.  As Assembly Republicans, we stand ready and eager to work with him on policies that will improve California's long term fiscal health. So, I was very pleased to hear him talk about the importance of paying down our retiree healthcare obligations, and of implementing the rainy day fund. All of those are good policies that will put us in a better place financially."
District 8 Republican Senator Tom Berryhill said, "I hope he continues to push his party to the center as we tackle other problems where we share a vision for California. Reforming the California Environmental Quality Act (CEQA) to create more jobs is one such area. Keeping a tight leash on spending is another. As always, the Governor has put forth some bold visions in his speech. A word of caution – those visions should not be achieved on the backs of the working folks.
Democratic Assembly leader Kevin De Leon said, "I thought it was an excellent speech. I thought it spoke very well to tackling climate change, and creating jobs for everyday Californians. I really liked his focus on higher education. It is absolutely imperative that we provide accessibility and affordability and get these kids to graduate on time, so that they can become income earners, and go into the workforce. I thought the Governor was right on the key points for California."
The Governor's proposed budget will be released this Friday.
Today the Governor will help break ground on the first stretch of the High Speed Rail project in Fresno. The $68-billion project has opposition from many farmers, Central Valley communities and Republicans.