Close Of 2014 Fire Season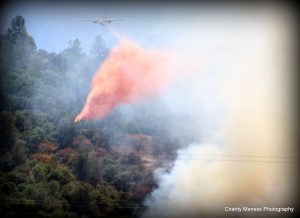 Oak Fire In Calaveras County

View Photos
San Andreas – The 2014 Fire Season to come to a close in the Mother Lode.  Cal Fire reports, the recent rains and cooler temperatures across the region has decreased the threat of wildfires allowing for a transition out of fire season effective at 8 a.m. Monday, December 15th for Tuolumne and Calaveras counties.
"What this does is allow us to reduce our seasonal staff," says Cal Fire spokesperson Lisa Williams, "We will also start closing some of the remote Cal Fire stations."
Cal Fire reports the 2014 fire season was an extremely active one.  In the Tuolumne-Calaveras Cal Fire Unit firefighters responded to 241 wildfires that charred 1,624 acres.  Across the state, over 5,500 wildfires burned nearly 91,000 acres according to Cal Fire.
Williams cautions residents to continue to be very careful when burning, as escaped debris burns are prevalent this time of year.  She reminds the public that burn piles should be no larger than four feet in diameter with 10 ft. soil clearance around the burn pile and a water source and a shovel should be on site.