Replanting Trees After The Rim Fire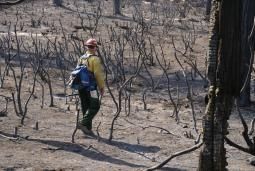 Soil Scientist evaluating a burned area of Rim Fire

View Photos
Sonora, CA — A public meeting is being scheduled for next month in anticipation of releasing the initial draft of the Rim Fire Recovery Reforestation Plan.
The plan will include the strategy for replanting trees in the Stanislaus National Forest, within the Rim Fire footprint. The Forest Service is planning a public meeting for December 16th. The date and location for that meeting has not yet been finalized.
How to go about reforestation is usually controversial. Besides the aesthetic connection, the Forest Service says trees provide a valuable ecological function. They cast shade over streams, which helps temperature sensitive organisms survive. They also slow water runoff and provide nesting and foraging.
The U.S. Department of Agriculture's nursery in Placerville grew 3.2 million seedlings last year to reforest areas impacted by high severity fire. Saplings from the nursery will be used to reforest some of the areas burned by the Rim Fire. No reforestation has occurred to this point within the Stanislaus National Forest. The December 16 meeting will be part of the environmental review process that is required to occur before replanting.