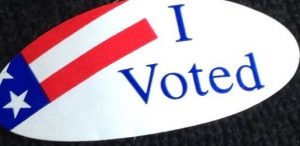 I voted sticker

View Photos
Sonora, CA – The Mother Lode's voter turnout is projected to be higher than the state average.  Tuolumne County Clerk and Auditor Controller Debi Bautista says turnout in the county will be somewhere between 55% to 58% once all the votes are counted.  State officials are projecting between 47% and 48%.
Bautista believes there are two reasons for the higher turnout.  "The citizens are always more engaged than the average in California.  We always have a better turnout," says Bautista.  "I also believe it's because of some of the races.  We had the Tuolumne Utilities District Board, the Assessors race and several school boards that engaged the voters."
Voter turnout in Calaveras County looks to be higher than the state as well; election officials there say it will be around 51%, with roughly 2,200 outstanding mail-in and provisional ballots yet to be counted.
Currently, Tuolumne County is in the process of counting more than 3,000 ballots.  That includes 2,600 mail-in ballots, which Bautista says she hopes to have counted by the end of tomorrow, and about 450 provisional ballots.  The latter could take several days  as the 3,586 votes made at polls will have to be checked to make sure no one voted twice.
Bautista says then there will be a rare additional step: counting the votes for two write-in candidates; Cindy Deutsch, who ran for Assessor-Recorder, and Jim Jacobs, who ran in the Twain Harte Long-Barn Union District race.  (Click here for an earlier story)   As Bautista explains, "We need to go through and find all ballots with write-ins, and then determine how many are the official write-in candidates and how many are other.  For the Assessors race that includes 73 precincts."   She adds the counting will continue into next week.
As to whether any of the race outcomes could change with the final count, Bautista states, "Anything could happen.  If one candidate gets all the votes, a second place person could win.  The trend says that's not going to happen, but mathematically anything could happen."
County elections officials have until December 2 to certify their final election results, according to the Secretary of State Office.  That office has until December 12 to complete election results.  In the meantime, you can click here to see the estimated numbers of ballots left to count in each county.