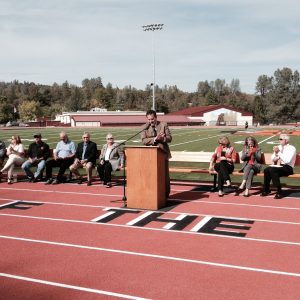 Superintendent Robert Griffith and Dignitaries at Summerville Thorsted Stadium Opening

View Photos
Summerville broke in its brand new field in week 8 of the high school football season.  The Bears attacked Argonaut and walked away with their first victory in the new Thorsted Stadium last night, 34 to 6.
The Sonora Wildcats were on the road and pounced on Linden 55 to 7.
Bret Harte lost to Amador on the road by a score of 54 to 21.  Calaveras had a bye week.