Weather Aids Firefighters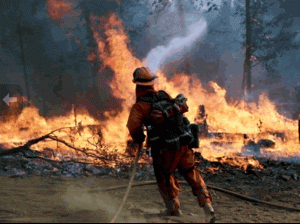 King Fire

View Photos
El Dorado County, CA — The King Fire in El Dorado County is now 78% contained and has grown by more than 1,000 acres to over 97,000 acres overnight.
Cal Fire Spokesperson Tom Piranio says Mother Nature was the key. He says the cool temperatures helped fire fighters on the line. Also, the storm that passed through on Thursday dropped about a ½ to one inch of rain.
Nearly 300 homes remain threatened by the flames and more than 7,200 firefighters remain on scene. Some of those assisting in battling the blaze are from the Tuolumne-Calaveras region.
37-year-old Wayne Allen Huntsman has been charged with arson in connection to the fire. He is being held in jail on $10-million bail.