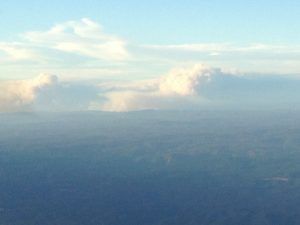 King Fire smoke in the skies over Pollock PinesKing Fire smoke i

View Photos
Pollock Pines, CA — The blaze grew about 4,000 acres overnight. It is now nearly 81,000 acres and remains 10% contained. Thousands or residents remain out of their home and some 12,000 homes remained threatened by the flames.
Yesterday the 37-year-old man accused of setting that fire pled not guilty to arson. However, details on why or how the fire was set have not been released.
Cal Fire also reports it set a record battling the King Fire. On Wednesday, air tankers dropped 203,375 gallons of retardant on the flames, the most in a single day. Cal Fire says the extreme drought conditions are allowing the flames to roll over those lines.