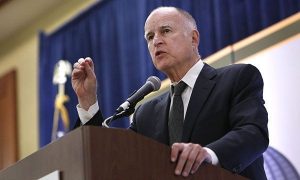 Governor Jerry Brown

View Photos
Sacramento, CA — Governor Jerry Brown has signed a couple of bills related to the drought.
The Governor signed Assembly Bill 2104 making it illegal for homeowner associations to prohibit drought resistant landscaping. He also signed Senate Bill 992, which outlaws homeowner associations from implementing fines for not watering yards when the Governor has declared a drought State of Emergency.
During the current drought there have been complaints that some homeowner associations across the state are frowning down on, and even penalizing, homeowners that replace green grass with drought resistant landscaping, or simply allow their lawns to go brown.
The new legislation has been referred to as the "Brown is Beautiful" laws. Senate Bill 992 takes effect immediately, while Assembly Bill 2104 becomes law on January 1st.