Containment Hike In Courtney Fire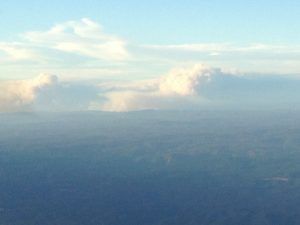 King Fire smoke in the skies over Pollock PinesKing Fire smoke i

View Photos
Oakhurst, CA — Oakhurst, CA — The Courtney Fire's containment is up to 60% and the acreage remains at 320. Some 35 earlier evacuated residents were allowed into the burned area to assess the blazes destruction. The vegetation fire in Oakhurst, south of Yosemite National Park, has destroyed or damaged 71 structures, 33 of them homes. 200 structures and 600 residents remain out of their homes.
Cal Fire reports the Bass Lake Heights community continues to be threatened by the flames due to the extreme fire behavior conditions, drought, and low fuel moisture.
The containment progress has allowed Cal Fire to reduce some of the resources battling the blaze. On scene are 560 firefighters, 73 engines, 8 dozers, and 11 water tenders.
The flames broke out Sunday afternoon on Courtney Lane and Seven Hills Road in Madera County near Highway 49 & 41. What sparked the blaze is under investigation.
Meanwhile, the King Fire burning in El Dorado County near the community of Pollock Pines is now 5% contained with 18,544 acres burned. 500 home remained threatened from the flames that were sparked in the afternoon of September 13th.