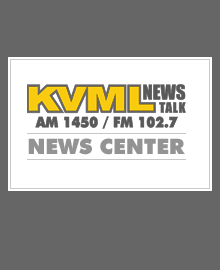 KVML News

View Photos
The much-anticipated Apple launch has finally come, and with it the latest and possibly greatest version of Apple's iconic smartphone, according to one radio host.
Kim Komando, America's Digital Goddess and radio talk show host, was Thursday's KVML "Newsmaker of the Day".
Komando had a lot to say regarding the iPhone 6, the Apple Watch and Apple Pay. Here are her words:
"The big question, as it always is with iPhone launches, is whether the iPhone 6 lives up to the pre-launch hype. Even more importantly, are you going to want to buy one?
Like any consumer, I eagerly examined the iPhone's appearance the moment it was introduced. My hope was that I would be totally blown away. Apple helped me out by slowly and fluidly rotating images of the new iPhone 6 on a giant screen behind CEO Tim Cook. It was impressive.
It looked bigger, included more curved surfaces, but in typical Apple fashion it never really lost the basic iPhone "look." I guess you could say the new phone looks to be more "evolution" than "metamorphosis." And I think that was a good move.
It was finally time to get down to the nitty-gritty. Would the phone keep the aspects that we love most? Would it improve upon the areas that needed help? And does the new phone have enough new functions to delight, entertain and, above all else, assist us users so that we "have to" get one right away?
Well, let's just say that one of the biggest debates among Apple customers, particularly with the rise in popularity of larger screened Samsung phones, has been about size. Some continue to applaud iPhone's compact design (minimally elongated in the 5s), while others say that Apple must make the viewing screen (and the entire device) much larger, in order to compete.
Enter the 4.7-inch iPhone 6 and its big brother, the 5.5-inch iPhone 6 Plus. For starters, the basic iPhone 6 screen is already 0.7 inches larger (diagonally) than last generation's 5s and 5c (up from 4 inches to 4.7 inches). But, if you want a dramatic increase in size, you can jump up to a giant-sized 5.5-inch display. Either way, you will notice an impressive difference in not only screen size but resolution.
You see, the screens aren't just bigger, they are incredibly clearer. You may also find it as amazing as I do that Apple was able to accomplish all this with two new phones that are BOTH noticeably thinner than last year's 5s model. Back when the 5s was introduced, we were excited about its 1136 x 640 pixel resolution at 326 pixels per inch. In the base iPhone 6, that number leaps to 1334 x 750 pixel resolution at 326 ppi.
In the iPhone 6 Plus, it's an almost-clearer-than-reality 1920 x 1080 pixel resolution at 401 ppi. In other words, the displays are just marvelous. Fortunately, Apple is using them well. iOS now includes a horizontal home page option that is great for navigation, and you can get two vertical fields for email and other applications that look and feel very similar to what you would be used to on your desktop.
Aside from the screen size, the iPhone has expanded in other areas as well. These new models have the new A8 chip, which increases processing by 50 times and graphics by 84 times over the original iPhone.
If you are a gamer or have one in your family, the new iPhone actually plays games in higher resolution than "next generation" game consoles. That is big news to gamers.
Health nuts are going to love a health app (included) that uses the M8 co-processor to track just about everything you need to know in order to maintain excellent condition and overall wellness.
Storage size is up, with options from 16GB to a massive 128GB. That will store enough HD movies for a decently long trip. At first glance, the camera doesn't look any different – it's still 8 megapixels. However, there are some differences. The iPhone's M8 co-processor allows for "phase detection" autofocus to happen twice as fast as ever. And, the camera can detect faces from much closer and much further away. And, in terms of video , the slow-mo function is so amazing. Plus, the 6 Plus includes real optical image stabilization for steadier photos and videos.
If those weren't enough, the iPhone 6 has upgraded 802.11ac Wi-Fi and the fastest LTE on the market, so it can officially say it's the best roaming smartphone in the world. Add in 14 hours of continuous talk time between charges, you have one seriously impressive offering. Hardware aside, you really did not think Apple would roll at this new flagship phone without a new operating system to go with it, did you? Nope. Me neither.
And as we expected, the iPhone is launching with iOS 8. It will also be available as a free download for older iPhones and iPads on September 17. The hold-your-breath moment typically comes down to price. We hear about the great features and capabilities and then we begin to think, "Uh oh, how much is this going to run me?" Ready for the good news?
Well, I cannot tell you that they are just giving these devices away. However, I am maybe just a little surprised that their prices are fairly close to what the 5s and 5c were offered at, last year (they are exactly the same). With a two-year contract, you can get an iPhone 6 starting at $199. The starting price for the iPhone 6 Plus costs $100 more for its base model. Prices either stay the same or increase based upon your choice of 16GB, 64GB or 128GB. Color is not an issue in determining price and every model is available in Silver, Gold and "Space" Gray.
So, are you putting the iPhone 6 on your Christmas gift list? Which model and color? Or are you buying something non-Apple? With Samsung on the rise, and with Apple throwing out some lukewarm releases after the loss of Apple icon Steve Jobs, you could say that this launch was as important as any that Apple has ever faced. The goal was to reestablish Apple's perception as the world's top technology innovator. Did that happen?
Right now, it is hard to say. A lot will have to do with the public and how the products are spoken of once "real people" like us get to try them. However, I can say this: Apple took the opportunity seriously and, at first glance, seems it is on its way back up to the top of the mountain.
Does Apple Watch eventually flop? Does Apple Pay fail to catch on? Maybe. But with Apple's razor-focus on user experience leading the way, my best guess is that it did itself more good with this launch than any other moment in the post-Jobs era. The iPhone 6 and 6 Plus look like solid market contenders. Maybe they could have appeared a bit more space-age, but I do think that staying on-brand was ultimately a pretty good idea.
Apple Pay is very timely, and if it is easy and safe, I cannot imagine why it would not catch on. I mean, who doesn't like the idea of a digital wallet that is actually safer than carrying an actual one around?
And finally, the Apple Watch is really amazing. To me, the obstacle for that gadget may be convincing customers that they need to spend another $350 in addition to their iPhone. But, once people get a look, or better yet, get to play with one – something tells me it will sell. A wrist walkie-talkie? Yes, please!"
The Kim Komando Show is broadcast every Sunday afternoon from 4 – 7 PM on AM 1450 KVML.
The "Newsmaker of the Day" is heard every weekday morning on AM 1450 KVML at 6:45, 7:45 and 8:45 AM.