Bridge Fire Evacuations Lifted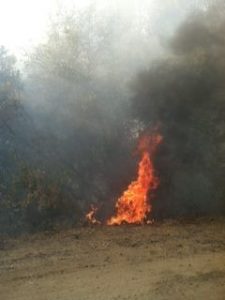 Bridge Fire near Mariposa

View Photos
Mariposa County, CA — Cal Fire reports crews have made great strides in the Bridge Fire near Mariposa. It is now 60% contained and remains at 300 acres.
The evacuation orders were lifted for the 700 homes and five businesses threatened in the Ponderosa Basin area. However, evacuations remain in place for residents along the "dirt" road section of Harris Road. Cal Fire reports all roads into the Ponderosa Basin subdivision are closed, but Highway 49 has reopened.
The flames broke out just before1 pm on Friday along Highway 49 near Harris Road, about 10 miles east of Mariposa. Currently there are 746 Firefighters, 91 engines, 22 hand crews, and 22 dozers on scene. Cal Fire reports overnight crews will monitor areas inside and outside the containment lines for any new spot fires while continuing mop up efforts.  Interior portions of the fire will continue to burn and may produce visible smoke in the skies once again tomorrow.