Make Juvenile Sex Crimes Public Record?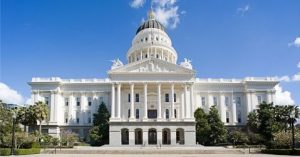 California State Capitol

View Photos
A bill headed to Governor Jerry Brown's desk would remove the anonymity of juveniles accused of sexual assaults.
Court documents regarding juvenile crimes are sealed, and court appearances are closed to the public, making it sometimes difficult to understand the reasoning for sentences. The legislation would make juvenile sexual assault cases open to the public.
The bill, introduced by Democratic Senator Jim Beall of San Jose, was in response to the case involving Audrie Pott, a Saratoga High School student, who was sexually assaulted by three boys while she was unconscious. The boys, who were not identified because of their ages, were given sentences that ranged from 30-45 days, by a juvenile court judge. After the crime, Pott was tormented by fellow classmates, and later committed suicide.
SB 838, known as Audrie's law, would also require offenders to undergo mandatory rehabilitative counseling and treatment. In addition, juveniles that are convicted of rape, sodomy, or oral copulation would not have the option of paying a fine, or participate in community service, in order for charges to be dismissed.
On a related note, we reported last week about two juvenile Sonora High School students that were charged with similar type sexual assault offenses, against a juvenile female, while attending a drinking party at a home in Calaveras County. Obtaining information about the case has been difficult because the suspects were both under the age of 18 when the alleged crimes were committed. We requested the crime report from the incident from the Calaveras County Sheriff's Department. In response, the Sheriff's Office only sent the front page of the report, which merely listed the charges. It read that the incident occurred on June 21st, was later reported on June 26, and that the offenses occurred along Skyline Drive, Tamarack, CA, 95223.
The response from the Sheriff's Office added, "We cannot disclose the remainder of the document to you because such records are exempt from disclosure under Penal Code Section 11167.5.   To the  extent  you seek a  report directly involving  a  minors,   we cannot disclose   because such record is exempt from disclosure under Government  Codes  6264 (f);   6254(k), 6255  and T.N.G. v. Superior Court (1971) 4 Cal.3d 767.
To this point, Calaveras County officials have also declined, due to legal reasons, to provide any details about past or upcoming juvenile court appearances related to the incident.