Hike In Gas Tax Here To Stay?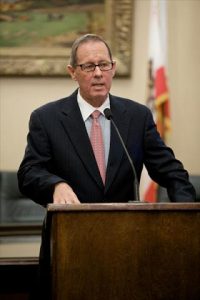 Senator Tom Berryhill

View Photos
Sacramento, CA – Last week an effort to halt an increase in the gas tax was rejected by the California Senate on a party line vote. State Senator Tom Berryhill voiced his objections to the tax, he is also coauthor of a related bill Senate Bill 1079 which calls for a halt to proposed increases in gas and fuel taxes in 2015. The measure is being held in the Senate Rules Committee.
Senator Berryhill says in his newly posted blog, "It is estimated the price of gas will jump up somewhere between 16 cents and 76 cents a gallon" He says, "This is an absolute hit on your wallet, especially in rural areas where there is little choice but to drive. Unlike urban areas, in my district you pretty much have to get in your car to go to the grocery store, school, or any other areas. This tax hike will hurt."
Senator Berryhill's views and details about the increase are in his blog "Hike in Gas Tax" here.