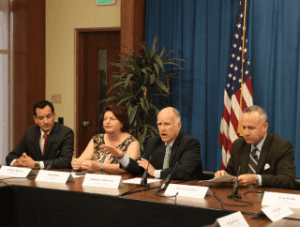 Governor's Water Bond Meeting

View Photos
Sacramento, CA — Governor Jerry Brown and other Democratic leaders are touting a new $ 7 billion water bond, which they say has the backing of more than 20 business, agriculture and environmental groups. Democrats are making this push today as there are scheduled water bond votes taking place in the legislature tomorrow.
One of those groups applauding the bill is California Farm Bureau Federation President Paul Wenger.  He says, "With California experiencing an unprecedented drought on the heels of two dry years, the most important issue on the November ballot is the passage of a water bond. It is an absolute necessity that the greatest single component of this bond be dedicated to water storage, something that has been sorely absent in the last five water bonds that have been passed by the voters since 1996."
However, they still need the backing of Republicans to replace the $11.1 billion water bond measure currently on the November ballot. GOP leaders counter that Democrats' new bill has no funding for new reservoirs.
A two-thirds vote from the Legislature is needed to pass the bill.  Brown's Office says the Governor signed legislation yesterday extending the deadline to put a new water bond on the November ballot and allowing more time to hammer out an agreement.