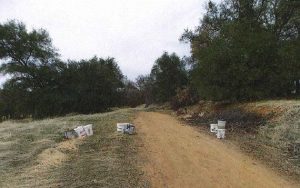 Trash on Jamestown property

View Photos
Jamestown, CA — A Sonora man faces a fine of more than $2700 for trash left on his property.  At Tuesday's meeting, Tuolumne County Supervisors held a public hearing on the matter.
In January, a complaint of illegal hazardous waste brought county inspectors out to a vacant lot on Fallen Leaf Drive in the Rolling Hills Subdivision in Jamestown.  Inspectors found ten five gallon buckets, some with hazardous waste in them like paint and roof cement.
County staff says the owner of the land, Frank Walter of Sonora, was contacted and given several chances to dispose of the trash for free. Walter did make an attempt to get rid of the trash at a waste facility, but arrived late for the appointment and the dump was closed. Walters return to the dump a second time, but with just one bucket. That garnered the more than $2700 in county ordinance penalties, which Walters appealed to the Board.
"I don't feel I should have to pay for something I had nothing to do with," Walters told the Board. "It just seems like it's not fair to put the burden on me."
Board Chair Evan Royce agreed the penalty is a bit stiff, "I just think it is ridiculous to charge $2700 for ten buckets.  He did make an effort to dump the stuff. I can see a couple hundred dollars would be reasonable."
County staff told the Board much of the amount covers the cost of staff time and the investigation.  A amount District 2 Supervisors Randy Hanvelt says taxpayers should not have to pay.
"I feel bad about you [Walter] feeling victimized, but I don't see that we have any choice. We provide free disposal.  Sorry, I just don't see a solution other to confirm the staff order."
It was also pointed out that Walter provided no evidence on how the other buckets were disposed and if they were dumped legally.  Supervisors waived a $100 penalty, but voted 3 to 2 against Walter determining he did violate county ordinances.  Royce and District 5 Supervisor Karl Rodefer voted in opposition.