Design For Proposed Big Dreams Playground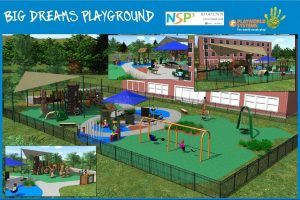 Big Dreams Park Proposal

View Photos
Tuolumne, CA — A group continues to raise money in hopes of building a universally accessible playground next to the Tuolumne Memorial Hall.
We first did a story about the group in April of last year. Since fundraising began last September, the Big Dreams group has raised around $40,000. There is still a ways to go, as the end goal is around $350,000. The playground will be designed in a way that it can easily be utilized by community members with disabilities.
The group has released a preliminary design for the park, which you can see in the upper left hand corner.
"The overlying theme that we were hoping for is something that blends in with the community, and something that captures the feel of the community," says Sarah Garcia. "The history of Tuolumne is logging, the Westside Lumber Company, and the railroad that ran logs out of there. That's kind of the theme we're going for."
Garcia says the group would like to see the park constructed in a couple of years, but it will depend on community donations and potential grant funding.
She says aspects of typical playgrounds can pose challenges for children with disabilities. For example, many have a bark or sand type surface. A specially designed rubber surface is a better fit for children who may be in a wheel chair, or simply have trouble maneuvering. The same idea applies to adults with physical disabilities who are at the park and need to assist their young children. Universal playgrounds also feature activities that are specifically designed for children who may have unique play needs, such as vision difficulties or autism. There would be musical items and special sensory activities.
To find out more about the project, and upcoming fund-raisers, click here.