Post Rim Fire Salvage Logging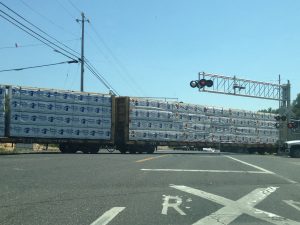 SPI Product Leaving Sonora This Week

View Photos
Sonora, CA — Sierra Pacific Industries plans to have all of the salvage logging on its private land completed within the next month.
16,000 acres of SPI land was impacted by the Rim Fire, and 9,000 acres were burned to the point that salvage logging was necessary. The work began as soon as the smoke started to settle in late September. "We think we'll have it finalized, basically about one year after the fire was out," says SPI Spokesperson Mark Luster.
Last year about 100,000 trees were planted on the burned SPI land, another 1.5 million are being planted this year, and next year will be an additional million trees. It is a mix of Ponderosa Pines, Sugar Pine, White Fir, Douglas Fir, Cedar and some giant sequoias.
Very limited salvage logging has begun on Forest Service land. "Right now we are doing some of their roadside hazards, and of course that's for safety purposes along the highways," adds Luster. "That should be all done later this year, or early next year."
The burned timber is being sent to the Standard Mill, Chinese Camp Mill and Lincoln Mill.
As reported previously, there are plans by the U.S. Forest Service to put up around 600 million board ft. of burned timber up for bid, as part of the Rim Fire Recovery. The Environmental Impact Statement is expected to be finalized later this month. However, there is about a two year window where logs can be salvaged, and Luster says SPI is still in a "wait and see" mode regarding how things will pan out.
"The final number that will come off the public land, we just don't know yet, because there's a good chance it will be appealed or litigated," he says. "And the longer it gets tied up, the more deterioration."
Depending what eventually comes off the forest, Luster estimates the Rim Fire salvage timber will keep the mills busy for the next two or three years, with  "green" sales needed by 2017 or 2018
"That's really going to be critical to us, because in order to keep the infrastructure in place, and the mills running, we certainly will need those green sales when we get through the Rim Fire. We're certainly hoping that process gets expedited as well, and not forgotten about."
Luster notes that you could start seeing some of the wood at stores. He says some of the cedar is being used to make pencils, the pine is being used for furniture and doors, and the fir is being converted into framing lumber.