Summerville Stadium Nearing Approval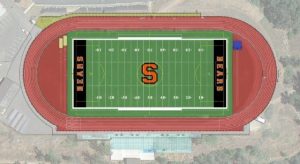 Summerville Bears

View Photos
Tuolumne, CA — The Summerville High School Stadium project is close to getting State approval according to Superintendent Robert Griffith. Stadium plans were submitted to the state on December 20th, with the possibility that it could take up to four months for approval.
The Summerville board of trustees received information at last night's meeting from the contractor working on the project, Robert E. Boyer Construction of Twain Harte. They report that State Department of Architects (SDA) is in the final comments stage of reviewing the project. So far their requests are "light" meaning they are not asking for major redesigns.
Griffith says, "So that is very good news for us." He says within about 10 days the SDA's comments will be given to BCA Architects who created the plans. BCA Architects will explain and modify their plans and resubmit them to the SDA. Then the SDA can give the "green light" for construction to begin.
This means that so far, according to Griffith, they are on schedule to completed construction before football season starts in the fall. He says they are looking at a target start date of April 15th.
The cost is estimated to be $4.2 million but Griffith says they will not know exactly until the plans are approved. Once the plans are finalized Boyer Construction will provide a Guaranteed Maximum Price and the Board will hold a special meeting, if necessary, to approve or reject the bid.
The stadium includes eight tracks circling the football field, bleachers and a snack shack. Griffith says aluminum bleachers take three months to order but if cement bleachers would be better it would also take three months to submit that plan, get approval, and create them. They plan start construction before making that decision.
The project is funded by Measure H bonds approved in 2012. An earlier news story about the project is here.