Washington Fire Impacts And Recovery Efforts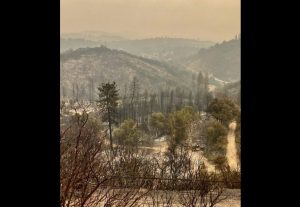 Washington Fire

View Photo
Sonora, CA — A panel of local leaders will detail the response to the recent Washington Fire, the impacts, and the recovery efforts moving forward.
This weekend's Mother Lode Views will feature Sonora Fire Chief Aimee New, Tuolumne County Office of Emergency Services Coordinator Dore Bietz, Tuolumne County Community Development Director Quincy Yaley and Sonora City Administrator Mary Rose Rutikanga.
The fire, which has a revised size estimate of 136 acres, destroyed multiple homes, outbuildings and some city-owned buildings.
One of the buildings housed things like the city's Christmas decorations. The fire also caused extensive damage to a historic city-owned 1953 GM fire engine.
The panel will talk about the fire response, cleanup efforts, and resources available to help those impacted.
There will also be a discussion about what property owners impacted need to know, and what the local state of emergency declared this past Monday means for the city and county.