Bear Valley Business Association Loves Snow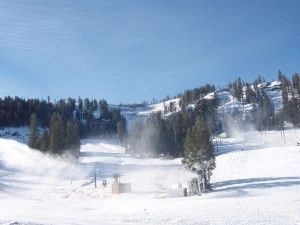 Bear Valley Mountain

View Photos
Bear Valley Mountain is opening this weekend and for the business owners of Bear Valley Village, this announcement is a big deal.
Eric Jung, Secretary for the Bear Valley Business Association, was Thursday's KVML "Newsmaker of the Day".
According to Jung, "Running a business here is similar to farming. Most business here is waiting for "summer harvest", which is the Bear Valley Music Festival, or they are waiting for "winter harvest", which is December through April. Everything else is "off-season" and businesses try to make enough money during the harvest time to hold themselves through the down times."
Jung has been a full time resident of Bear Valley Village for over thirty-five years.  
"Nobody in their right mind would live up here year-round if we didn't have business and facilities, " said Jung. "Thirty-five feet of snow per year tends to drive most people to the lowlands."
Jung continued, "The majority of the few people who live in Bear Valley Village year-round are the workers and not retired people. They are families and they either work for or they own businesses here in the Bear Valley Village area." 
With so much winter reliance on Bear Valley Mountain, Jung welcomes this week's statement issued by the ski area:
"Recent winter storms and excellent snow making conditions have provided the necessary coverage to allow Bear Valley Mountain to open this weekend, Saturday and Sunday, December 14 and 15."
For more information regarding the Bear Valley Business Association, call (209) 753-2334.
The "Newsmaker of the Day" is heard every weekday morning on AM 1450 KVML at 6:45, 7:45 and 8:45am.