Update: Mother Lode Could See PSPS By Midweek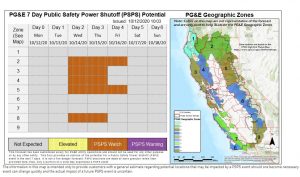 PSPS Watch

View Photo
Update at 6:13pm: PG&E reports that parts of 21 counties and 50,000 customers are anticipated to be impacted by a planned power outage starting Wednesday evening. None of the customers are in Tuolumne County and 262 are in Calaveras County. The information is subject to change based on weather conditions.
Update at 3:23pm: As of this afternoon, Tuolumne County is not yet part of a PG&E planned power outage later this week, but the possibility remains.
OES Coordinator Liz Peterson says, "PG&E continues to review the weather modeling and at this time Tuolumne County is not included in the scope of the 8pm, 10/14, PSPS event. However, please continue to remain prepared since weather can change quickly.
Update at 12:10pm: PG&E has upped the potential for a planned power outage in the Mother Lode from "elevated" to a "PSPS Watch." Regions five and eight, which include both Tuolumne and Calaveras counties, are included. The scope of the outage, if it happens, is not immediately clear. PG&E continues to monitor its weather models. High winds are projected from Wednesday night and into Thursday. We'll pass along more information when it becomes available.
Original story posted at 6:19am: Sonora, CA — PG&E is warning that there could be a planned power outage for many communities across the state due to high winds anticipated this Wednesday through Thursday/Friday.
Regions five and eight, which include Calaveras and Tuolumne counties, have been moved to an "elevated status." If the weather patterns continue to worsen, the next step would be a PSPS watch, followed by a PSPS Warning. We'll keep you updated as more information comes into the news center.