Update: Spike In COVID-19 Numbers Has Sups Cautioning Against Gatherings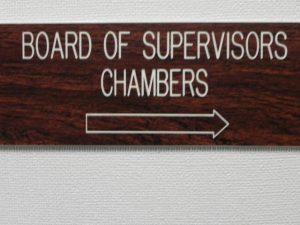 Tuolumne County Board of Supervisors Sign

View Photo
Update at 1:30 p.m.: Clarke Broadcasting contacted the Tuolumne Lumber Protest Chairman Aaron Rasmussen for feedback to the Tuolumne County Board of Supervisors statement concerning the high transmission risk of mass gatherings in the county and suggesting that due to the spike in coronavirus recently people not attend or organizers cancel the events (Further details on the statement are below).  His reply, "Absolutely not! We have the right to hold this event. Everybody has a responsibility to take the health guidelines and apply them to their life however they want. It's not a law, it's not a rule, it's not a mandate. They can call it whatever they want. At the end of the day, people have to take personal responsibilities." The event is this Sunday.
As reported earlier here, organizers switched its name from "jubilee" to "protest" in an attempt to qualify under the state guidelines that religious services and protests are permitted only if state coronavirus restrictions are followed. Rasmussen also questions the board's motives for the statement, claiming, "I feel like we're being targeted and the ones to get the brunt of this. The county made phone calls to park and rec. to shut down the off water and power to our gazebo here in the park specifically on Sunday morning." Rasmussen added that those utilities have always been provided by the county in the past.
We reached out CAO Tracie Riggs regarding that charge and she admitted that those things are being shut off, not to single out the protest, but due to coincidence and to save taxpayer dollars. She recounted that two weeks ago she had been asked about power being turned on for a weekend protest in the courthouse park in downtown Sonora. Riggs denied the request because it would require overtime pay. She explains, "So, then I started asking about all the other places of which we might have power on or utilities that we really should not. The reason being there is a cost associated with that. We're in a financial crisis, so as I become aware of things then we are obligated to work on those things and make a change if that is required."
It was learned that the Department of Parks and Recreation on occasions had been leaving those utilities on in some parks for events, including Tuolumne Memorial Park, with taxpayers footing the bill. Riggs asserts, "So, this was not in the specific contexts of just the lumber jubilee. This is about consistency across how we provide services to our residence of our county."
Riggs relays that public health officials have communicated to Rasmussen that this is not a permissible event under the COVID-19 restrictions, as reported here. When asked if the event will shut down by the county, Riggs answered, "There is a difference between a protest and a social event. People have a right to do a protest and communicate their feelings on issues. However, we haven't been doing heavy-handed enforcement on anything, nor has the state of California. So, it's more about asking people in their social conscience to react the way that we are all being asked to react as Californians."
Rasmussen counters, "We can compare and what if all day long… By no means am I belittling anyone else from protesting? If anything, exercising my right protects their rights." He adds that at least his event carries insurance."
Whether that will cover COVID-19 is not clear. In the board of supervisors' written statement, it stresses that mass gatherings present an "especially high danger of transmission and spread of COVID-19." Begging the question of what happens if people get sick or even die after attending the event. Rasmussen responds, "That's an unfortunate part of life. What if they just caught the flu or got in an accident or went to Walmart or Lowes before they come here. It's just ridiculous. Of course, we're praying that that doesn't happen."
A big concern for Riggs is if this event contributes to the spike in cases the county is currently experiencing, click here for an earlier story, it could trigger an economic hit and have a huge impact on the lives of everyone in the county. She warns, "This could be the one thing that could cause the public health officer to issue an order that would shut down our business and could make all of us have a stay-at-home order again."
While Rasmussen says he understands people's plights and worries, but at the end of the day, he worries more about liberties than individual issues, arguing, "We can hide away in our homes every time there is an issue."
Original post at 7:24 a.m.: Sonora, CA – A spike in coronavirus cases has the Tuolumne County Supervisors giving a strong warning against mass gatherings, but stopping short of ordering the events be canceled.
Citing that large gatherings are not allowed under state and local orders, supervisors warn they present "an especially high danger of transmission and spread," In a written release, the supervisors disclosed that it is "aware of several mass gatherings scheduled to take place this weekend, as well as other public and private gatherings planned for the future."
One event taking place this weekend is the Tuolumne Lumber Protest, which switched its name from "jubilee" to "protest" in an attempt to qualify under the state guidelines that religious services and protests are permitted only if state coronavirus restrictions are followed, as reported here. On Friday, Clarke Broadcasting reached out to county health officials regarding this event and if any actions would be taken to stop it but did not hear back from them.
In the county leaders' statement, they do not go as far as threatening or suggesting that the Tuolumne event or any of the other activities they are aware of will be shut down. Instead, the board tries to persuade organizers to cancel the events or the public to not attend due to the risk of spreading the virus. They note that while religious services and protests are permitted, "these events are not safe and pose a serious risk to the health of those who attend."
They also point to the hike in positive cases, seven in one day that doubled in one week to a total to 14, as detailed here. One of those individuals attended a baby shower and a birthday barbeque, as reported here. The county stresses these types of events, involving individuals from different households, present an "especially high danger of transmission and spread of COVID-19." The board adds that the county is already experiencing community transmission and expressed concern that "any mass gathering will result in additional cases, pose a harm to vulnerable populations and overwhelm our local health care system."
The board ended the release stating, "The Tuolumne County Board of Supervisors implores the public to make intelligent choices and not participate in gatherings and events."