Update: Earthquake Felt In Mother Lode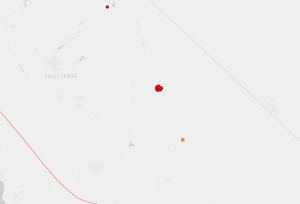 Lone Pine earthquake and aftershocks

View Photo
Update at 3:40 p.m.: Damage reports are coming in from the 5.8 magnitude earthquake that struck outside of Lone Pine in central California this morning and could be felt in the Mother Lode. The quake triggering a mountain rockslide west of the small community in the Sierra Nevada. The Inyo County Sheriff's office reports deputies found several boulders and snapped trees near the main parking lot at the Whitney Portal campground, which serves the trailhead for Mount Whitney. Deputies evacuated several campgrounds in the area before closing them. Also, the Horseshoe Meadows Road was shut down due to debris and rocks. No timeframe has been given for their reopening. There were no immediate reports of injuries. Additional details are below.
Original post at 11:25 a.m. written by BJ Hansen: Lone Pine, CA — An earthquake with an epicenter southeast of Lone Pine was felt throughout the Mother Lode this morning.
The US Geological Survey reports that a 5.8 magnitude quake occurred at 10:40am about 10 miles outside of Lone Pine. It was followed by various aftershocks, including a 3.4 at 10:45am and a 4.6 at 10:59am.
Clarke Broadcasting received calls from listeners who felt it in areas like Cedar Ridge, Soulsbyville, Phoenix Lake and Columbia shortly after the quake.
It is unclear if there was any damage near the epicenter.