Update: Black Lives Matter Protests Happening In Angels Camp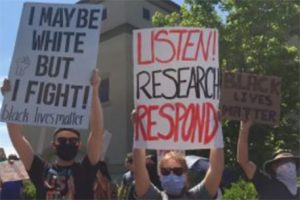 Angels Camp Black Lives Matter Protest June 5 2020
Update at 5:15 p.m. Sat. written by Tracey Petersen:  Angels Camp has lifted the curfew that was in place for the city tonight. The city council had implemented a two night curfew running from 8 p.m. to 5 a.m. on both Friday and Saturday. It was put in place as a precaution shortly before a Black Lives Matter protest on Friday afternoon at the intersection of Highways 4 and 49 with another to follow Saturday afternoon. Further details on Friday's protest are below.
Update at 5:48 p.m. Known for being a "Kindness Zone," Angels Camp area residents rose to the occasion during a demonstration in solidarity with Black Lives Matter.
While crowds are now thinning, beginning around 2:30 Friday afternoon at Highways 4 and 49 an all-ages crowd of about 300 to 400 people, nearly all wearing masks and bearing homemade signs began arriving to take their spaces in the four quadrants of the intersection. Some even brought extra masks, sunscreen, water and snacks to share. To view photos of the event click into the image box slideshow.
One of the community's long-time organizers reminded everyone to stay focused and reply to any heckling with love and positivity as he turned over the bullhorn to the event's original organizers, local students Claudia Loomis and Riley Lowell, who were received with cheers.
The two talked with Clarke Broadcasting briefly about why they believe demonstrating locally is important in the wake of George Floyd's death and resulting unrest.
Lowell shares, "We saw that was happening on social media and we couldn't…do nothing. As citizens of a city, of this county and America, we had to show that even though this is a conservative area and it is predominately white, we still have those problems and still have injustice — and we can't just sit by and watch it happen. We have to do something and change it."
Loomis adds, "This feels like a problem that does not affect our community — that is many people's thoughts processes with this — but just because we are detached from the cities where we see police brutality and stuff, that doesn't mean it doesn't happen out here…we still have everyday racism in our communities and that's why we are here."
Organizer's Mother Shares A Key Moment
Clarke Broadcasting caught up with Lowell's mother Laura, who had her own sign. She shared that build up of the past few days, during which the two young women received such a barrage of negative and harassing messages through social media they decided to postpone the event, was a real eye-opening experience.
"As white woman…I can sympathize but I cannot empathize," Laura confides. "But this week my daughter and Claudia were threatened and it dawned on me like a stroke of lightening that that is how black moms feel every day. I felt like this for 72 hours and it is unbearable. They feel like this with their kids every single day of their lives and it is unconscionable."
She says it is up to white moms and others to stand up, engage in the difficult conversations, because those are the kinds of efforts necessary to stop the ignorance and fear-led intolerance.
Calaveras County Sheriff's spokesperson Sgt. Greg Stark confides that dozens of units will remain in the area Friday and Saturday because the Angels Camp Police Department requested mutual aid out of a concern about the potential for civil unrest.
City police, county sheriff's officials and the CHP assembled a unified command center with additional assistance from the Tuolumne and San Joaquin sheriff's offices, using marked and unmarked vehicles.
"We are out in the area to make sure everyone's voice is heard, everything's conducted in a peaceful manner, nobody's right's rights are violated, and there are no offshoots of looting andor criminal activity that is common these days with protests," Stark states.
Law Enforcement, Curfews In Place
With the potential of more people coming from out of the area Saturday, Stark says law enforcement is prepared for just about any kind of trouble. "We are not going to put up with any type of civil unrest. We want everybody's voice to be heard. We want it remain peaceful and we have contingency plans…so we can respond appropriately for anything that happens."
Additionally, the Angels Camp City Council, which declared a local emergency for the next seven days earlier today, enacted a curfew that will remain in place Friday and Saturday from 8:30 p.m. until 5 a.m.
In a late Friday afternoon announcement, city officials explained the moves as key in allowing additional resources to flow into the city, ensuring that events take place peacefully and without incident, and to protect the health and safety of residents and businesses.
The curfew states that city residents will not be allowed on city streets, walkways, alleys, parks or other public areas during the curfew hours, and any violators will be subject to criminal penalties and fines of up to $1,000.
The curfew does not apply to peace officers, firefighters, National Guard and other emergency operations personnel, individuals traveling to their home or workplace or to obtain medical assistance, members of the press, homeless individuals, and delivery or utility services personnel.
The City Administrator and the Chief of Police are authorized to extend or modify the curfew as they deem necessary through June 11.
Original Post at 12:14 p.m. Angels Camp, CA — A previously canceled demonstration has been expanded upon and city officials are scurrying to prepare for it.
Angels Camp City Council has called an emergency virtual session at 12:30 p.m. to address community plans that have sprung up for two protests, one this afternoon and another one tomorrow at 3 p.m. in solidarity with Black Lives Matter, honoring George Floyd and other victims of racial violence.
The demonstrations will be at Highway 4 and 49 corridor crossroads, a popular place for local protesters to chant and wave signs at passersby.
Although a peaceful event is anticipated, council members expect to declare a local emergency for the next seven days due to the potential for civil unrest, threatened conditions, and bad behavior leading to crimes. They will also consider imposing a curfew from 8 p.m. tonight until 5 a.m. Saturday that may be further extended.
Click here for a previous story posted last night about plans for the event that were canceled on Wednesday and an interview with Angels Camp Police Chief Scott Ellis addressing related issues and news he heard Thursday eve that others in the community decided to demonstrate anyway.
We will provide more details about the event as they come into the NewsCenter along with event coverage.