Update: State Meeting About Fishing Restrictions Rescheduled For Today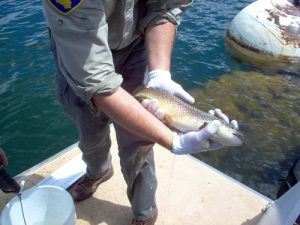 Mother Lode Recreation

View Photo
Update at 2:44 p.m.: Over 400 callers reportedly listened in to a special online meeting where an emergency order was approved to temporarily allow the Department of Fish and Wildlife (DFW) to determine fishing access during the COVID-19 emergency.
The action passed as drafted with the unanimous approval of the California Fish and Game Commission (FGC). As written, DFW is authorized to for public health purposes delay, suspend or restrict sport fishing in certain or all inland and marine waters or restrict the taking of any fish species through May 31.
Earlier concerns included that Mono and Inyo counties and the Mammoth Lakes Town Council had requested that FGC postpone trout season in Mono and Inyo counties while four state and national sport and recreational fishing organizations requested that closures not be overly broad. There were also many sport fishers opposed to closures.
As described in the regulatory document, given DFW's expertise in understanding sport fishing throughout the state and the historical behavior of sport fishers as it relates to those fisheries, DFW and FGC jointly determined that a "temporary, adaptive approach" was necessary.
Decisions made under the emergency regulation by DFW in consultation with FGC will be "surgical," based on the most current information available in consideration of public health and safety guidance from federal, state, tribal, and local officials. The emergency regulation self-expires in 46 days and Bonham will be required to attend the next FGC meeting.
In the event there are delays to fishing season at the beginning, it was discussed that days could be added at the end to increase and not limit opportunities. Plans are for DFW to maintain a list updated daily by 7 p.m. at 916-445-7600 to keep current information available to the public of what is and not open.
At the end of the nearly three-hour meeting and public comment session, DFW Director Chuck Bonham expressed, "A deep thank you and appreciation for everyone who dialed in." He added, "This proves that it's possible to do our public business with respect and to understand all the viewpoints. Each person really showed what it is like for California to have a conversation about something we all care about."
He emphasized that only once before during the extended drought had his department been given emergency authority and that he understood trust between his agency, other agencies and the public as paramount.
BJ Hansen posted the story below.
Original Post at 7:26 a.m.: Sacramento, CA — The California Fish and Game Commission will have a meeting online today, and only one item is on the agenda.
It is a vote on giving the Department of Fish and Wildlife the ability to delay or suspend recreational and sport fishing if it is requested by local public health officials. State leaders note that it is not a statewide ban. We reported last week that the item was discussed at a meeting that started during the morning of April 9, but the call volume overwhelmed the site, as over 500 participants were taking part.
The meeting is now scheduled for this morning at 10am.
The action would have a sunset clause of May 31.
Information about how to take part is listed below:
1. How to Listen to the Meeting (no public comment) If you do not wish to make a public comment, please use this option. As always, if you want to watch a "live stream" of the meeting (also referred to as a live webcast), please visit www.fgc.ca.gov the day of the meeting. Since everyone is participating remotely, there will not be a live video, just audio with a screen that shows the agenda items. You will also be able to follow the presentations via the live webcast.
2. How to View Presentations Presentations to be made during the meeting will be available on Tuesday, April 14 in a separate PDF document at https://fgc.ca.gov/Meetings/2020. Presentations will also be viewable on the live webcast (see #1).
3. How to Provide Public Comment – No Pre-registration Required Please use this option if you want to make a comment or do not have an internet connection that allows you to view the webcast. When you first join the call, you will be placed on mute; you will hear music until the operator begins the call. Once the call begins and the Commission is ready to start hearing public comment on agenda items, President Eric Sklar will ask who would like to comment. If you would like to comment, please press #2 on your phone to "raise your hand" and alert the operator that you would like to speak. The operator will unmute phone lines one-by-one. When it is your turn to speak, you will hear an automated recording that "your line has been unmuted."
Call information for April 15, 2020 starting at 10:00 a.m. (you may join the teleconference 10 minutes prior) Dial-in: 888-251-2949 or 215-861-0694 Access Code: 4815955##
If an automated recording indicates the teleconference is full, please use the overflow access code: 8498381##