Update: Winter Storm Warning Issued For The Sierra Nevada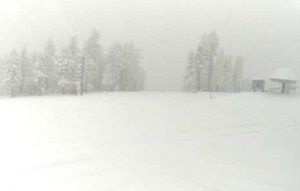 Dodge Ridge Summit

View Photo
The National Weather Service has issued a Winter Storm Warning for the Sierra Nevada above 3,000 feet, through 5 PM this afternoon.
An additional one to four inches of snow is expected above the 3,000 foot elevation.
The total snow accumulations above the 5,000 foot elevation will range from two to four feet.
Winds will continue to gust as high as fifty mph on exposed ridge tops.
For those who must travel in the Sierra Nevada, expect chain controls, possible road closures, snow-covered roads, poor visibility, possible road closures and significant travel delays. Travel will be very difficult to impossible.
A Winter Storm Warning for snow means there will be snow covered roads and limited visibilities. Travel is not recommended while the Warning is in effect. If you must travel, keep an extra flashlight, food and water in your vehicle in case of an emergency.