Sonora Shooter Incident: Shot Up Police Cruisers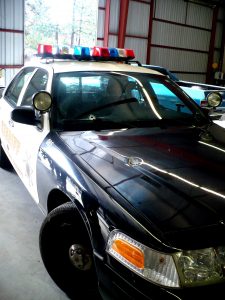 Tuolumne County Sheriff's Vehicle Front

View Photos
Sonora, CA – Ahead of scheduled body work to repair the two police cruisers damaged in the November 22 deadly shooter incident in downtown Sonora, myMotherLode.com captured some sobering images.
According to Tuolumne County Under-sheriff Bill Pooley, investigation of the incident in which 29-year-old Bruce Thomas Snyder twice sprayed fire at officers and bystanders and briefly led law enforcement officials on a car chase through Sonora, should shortly wrap up. The two Tuolumne County deputies and City of Sonora officer involved in the shooting who are now on administrative leave will be identified next week and plans are for ballistics and other investigative reports to be ready in approximately two weeks.
A visual inspection of the Tuolumne County cruiser indicates that at least two bullets shattered the windshield on the passenger's side. One of the shots directly hit and passed through the passenger seat headrest. Clearly, if there had been a passenger in the front seat at the time, it is possible that there could have been an additional, potentially fatal casualty. It appears that at least two additional bullets penetrated the front bumper and hood.
Along with a windshield cracked by at least two bullets, the Sonora police cruiser appears to have taken at least two more bullets to the vehicle hood.
An officer and a female bystander, both hit in the melee of bullets, escaped with minor injuries. While the officer was wearing a bulletproof vest, gaps are common between the vest and the uniform service belt. Fortunately for the still-to-be-ID'd officer, the bullet hit his belt. The woman, who was visiting from North Carolina, received a gunshot to the upper torso. She was treated at Sonora Regional Medical Center and released.
Snyder, whose last known residence was Jamestown, was on active parole for assault with a deadly weapon, and legally could not possess a firearm at the time of the shooting.